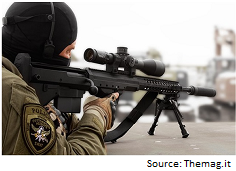 Summary
Investors never know when a zombie apocalypse will begin.
Survivors will favor reliable vehicles and ranged combat, which makes Toyota and Lockheed Martin solid choices.
In the wake of destruction caused by an all-out war, demand for Caterpillar's equipment should skyrocket and reverse a trend of weakness amid oversupply in the mining sector.
Demand for cigarettes should strengthen if the general population expects to die before cancer would set in.
The presentations by Johnson & Johnson look as if they could already be marketing to investors concerned about the rise of the zombies.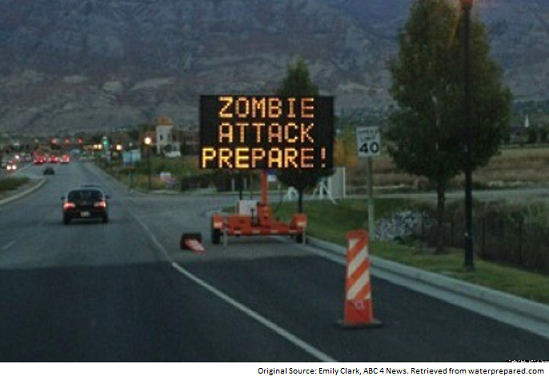 When investors are facing a volatile market and panic seems to be running rampant, they should keep an eye on the real threat to their portfolio values. The Zombie Apocalypse will dramatically alter retirement planning for most investors. Some may even find themselves joining the other side and physically decaying as fast as their portfolios. In the weirdest article you've ever seen on Seeking Alpha, I present the dividend companies that have superior positions to succeed in the coming Zombie Apocalypse. You don't want to sleep on this risk, because you never know when you'll be driving home and see this sign:
Lockheed Martin (NYSE:LMT)
Lockheed Martin has a forward dividend yield of about 2.96%, which is solid for a dividend idea, and they would be in great position to succeed in the zombie apocalypse. Since the zombies are unlikely to come all at once, there would be enough time for new military orders to go in, and Lockheed Martin does a great business in supplying the military with weapons that can be used on terrorists or zombies.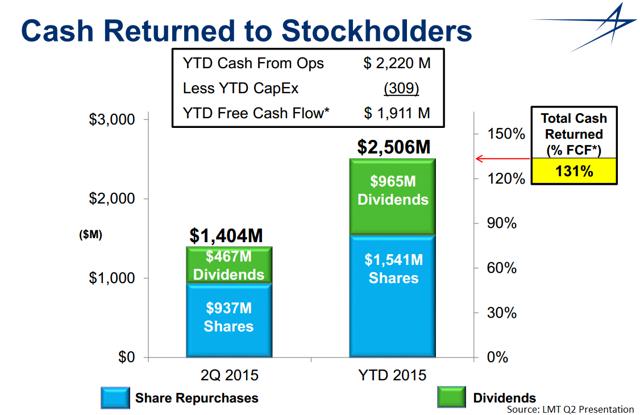 During the second quarter the company spent over $900 million on repurchasing shares, and they are on track to repurchase at least $2 billion for the year. So far this year, the cash returned to shareholders has exceeded free cash flow from operations, as demonstrated below:
That could be a concern that they may need to slow down the rate, but a dividend yield of nearly 3% was growing slightly, while more than half of the cash returned to shareholders was flowing through the repurchasing of shares rather than dividends. Without a zombie apocalypse, they may have to slightly reduce their repurchasing of shares, but that dividend looks secure.
Now let's get back to the real question. Why would LMT suddenly prosper when the zombies were rising? While the traditional weapon for fighting zombies may be a baseball bat, I think most people will find they would prefer ranged combat. At the very least, the survivors would be people that preferred ranged combat. Would you rather have a bat, or a real weapon?
Toyota Motor Corporation (NYSE:TM)
Toyota is a great pick for the Zombie Apocalypse. The dividend yield is already nearing 3.40% and the company trades at a fairly low P/E ratio of 9.8. When it comes to sales, Toyota knows exactly how to position themselves. The Toyota Hilux is a favorite among investors preparing to fight off zombies, as demonstrated by this photo:
Having high-quality guns from Halliburton is great, but putting them on a nearly indestructible pickup is even better. How indestructible is the Toyota Hilux? Just look at this video from Top Gear, which shows their attempt to destroy one. They drove it into an ocean and hit it with a wrecking ball repeatedly, among other abuses. After all that, they set the car on fire. Despite the abuse, that old Toyota Hilux still started and was driven into the studio:
https://www.youtube.com/watch?v=xnWKz7Cthkk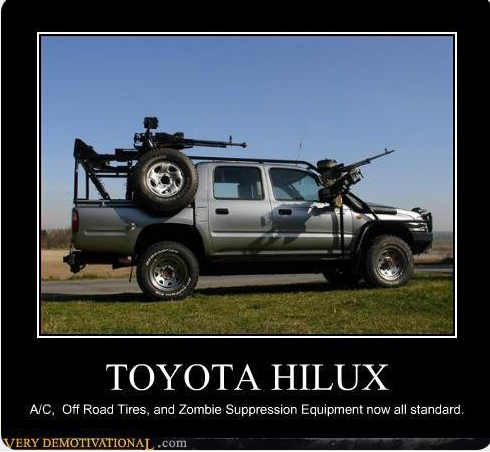 You have to assume that there will be plenty of zombies hitting the car, assuming you can't shoot them down in time. If you're planning on a flame throw as a last defense, it would be good to have a truck that can survive even that.
If all of that doesn't convince you to buy a high-quality car manufacturer at respectable P/E ratios and dividend yields, then at least consider the market share they would stand to gain. With Volkswagen's (OTCQX:VLKAY) issues coming to light about emissions and most car buyers being humans (rather than zombies), the government might seek higher emissions standards.
Caterpillar Inc. (NYSE:CAT)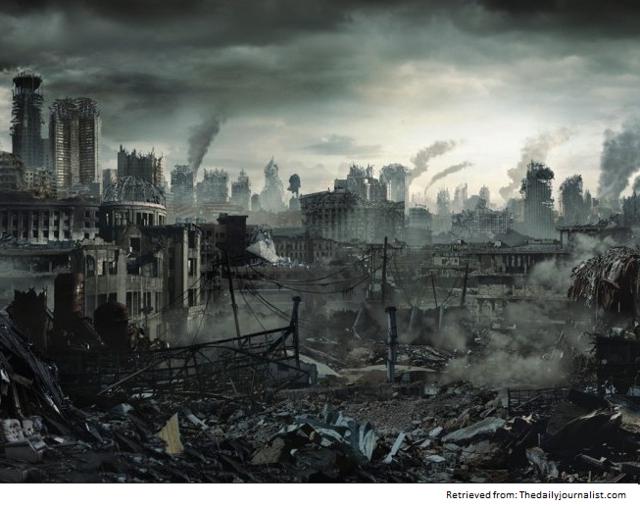 Caterpillar has seen their stock price tumble as global commodity prices seem to be falling off a cliff. The company went from around $110 per share in the summer of 2014 to around $65 today. During that time, they raised dividends from $.60 per share to $.70 per share and then $.77 per share. With a trailing P/E ratio of 11.24 and a dividend yield of 4.29%, this looks like a good company falling on hard times. Without a Zombie Apocalypse, the intense competition in the mining industry and eventual reductions of capital expenditures would threaten to slow sales growth for the company and weaken earnings. On the other hand, with a Zombie Apocalypse, there will be entire cities to be rebuilt. Cities like these two: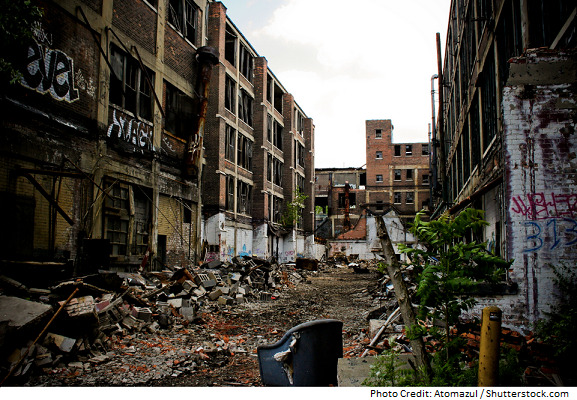 A quick note on images: The latter image is a real photo from Detroit. That seems like another reason to buy Toyota over the Detroit manufacturers.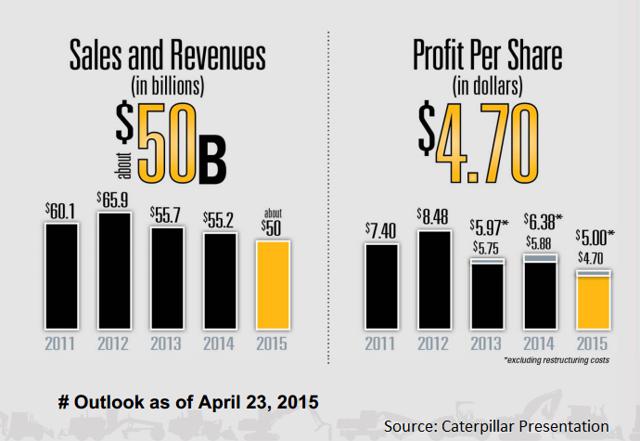 If human kind is able to win the battle against the zombies, there will be entire countries that need to be rebuilt, and the demand for Caterpillar's equipment should easily reach record highs. That would be an excellent change from the declining sales picture that has caused management to lower their outlook and the share prices to fall so substantially. The decline in sales and revenues is illustrated below:
If Caterpillar can drive sales higher, there is some fairly substantial operating leverage that would boost earnings per share and enable the company to continue growing their dividend. Of course, with questions swirling about how Caterpillar will survive in a lower growth period, the immediate need for fortifications would provide a welcome source of immediate demand.
Currently we are seeing the slowdown in China reflected in dramatically lower prices for base metals. A reduction in metal prices reduces mining expenditures. The reduction in mining expenditures reduces the need for Caterpillar's products. Without a zombie apocalypse, Caterpillar would need a resurgence in the metals market.
Altria (NYSE:MO)
This dividend beast is selected by Mike Nadel. Here are his comments on it:
My No. 1 stock for a Zombie Apocalypse is the same as my No. 1 stock if I could only own one today: Altria.
I will quote a few paragraphs from the article I wrote on the subject back in June:
Why Altria? Well, it's an all-weather, money-making, income-generating buzzsaw.
Think of all the headwinds America's leading cigarette-maker has faced: onerous government regulations, a product frowned upon by much of society, severe limitations on advertising, a gradually declining customer base, and a product that literally kills off its most loyal users.
Big MO hasn't flinched, increasing earnings, expanding revenues, raising dividends for 46 consecutive years, and offering investors Philip Morris (NYSE:PM), Kraft (KRFT) and Mondelez (NASDAQ:MDLZ) as spin-offs.
Warren Buffett says a great company must have an "enduring moat." Well, Big MO has the classic enduring moat — a product so addictive that even people who want to give it up have trouble doing so.
Altria is a survivor. I mean, if Zombies are roaming the earth, there will be a lot of nervous humans smoking a lot of Marlboros!
My thoughts on Altria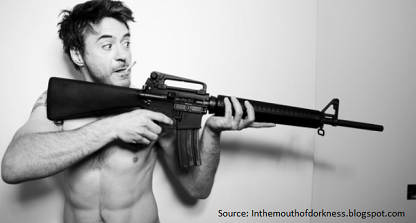 Mike Nadel makes a great point. With zombies roaming the earth and a much shorter life span, there will be fewer concerns about smoking. If the smoking actually calms the nerves, it may help survivors shoot better. You can see this entirely accurate and non-staged photo of someone preparing for the zombie apocalypse while smoking as proof:
When it comes to dividend growth goals, Altria understands their positions perfectly:

They want to grow the adjusted diluted EPS at 7% to 9% per year, and they want to pay out 80% of the total value. Who doesn't want a stream of dividends that grows by 7% to 9% per year? Over the last six years, they have landed within this range on both adjusted diluted EPS growth (8.0%) and dividend growth (8.9%).
Historically, they raised their dividend 48 times in the last 45 years. I'm tempted to hold Altria in my portfolio even if the Zombie Apocalypse doesn't come to pass. To be fair, I also like the investment opportunity for any ETF focused on sustainable dividend yields or consumer staples because the product is highly addictive and unlikely to see sales plummet if we enter another recession. Judging from the volatility in the stock market, that might be almost as scary as a zombie apocalypse to some investors.
Johnson & Johnson (NYSE:JNJ)
JNJ was suggested by fellow contributor Matthew Waterman, and makes sense as a natural holding when the zombie wars begin.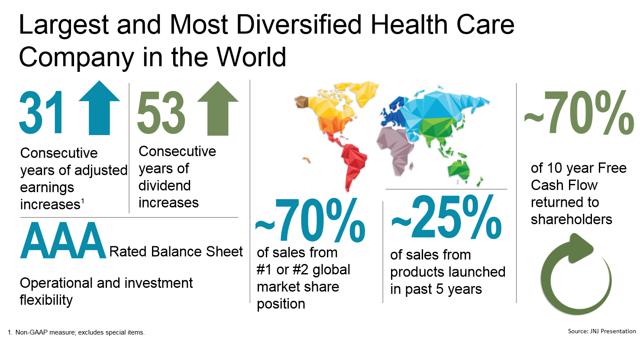 If there is a way to help those already infected, JNJ would be in a solid position to benefit as the largest and most diversified health care company in the world. (Their words, not mine.) On top of their dominant market position, they have 53 consecutive years of dividend increases and seem unlikely to let a profitable opportunity like a zombie apocalypse stop that record. Just look at how rapidly those dividends have grown: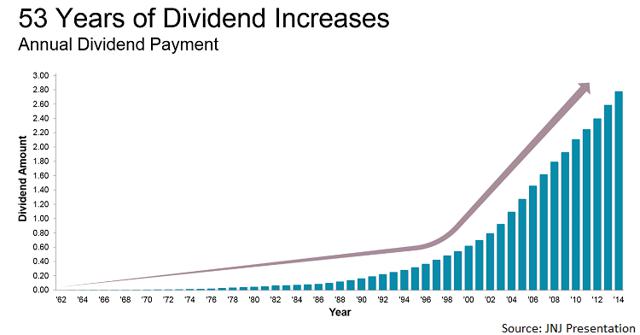 On top of the dividend increases, they would be poised to succeed in producing treatments or early detection systems. Their R&D expenditures have been rated as the most productive in the sector, and they have launched 14 brand new products since 2009.
)

JNJ is already battling infectious diseases, as demonstrated below:

Their plan for fighting strains of zombie-causing viruses is detailed in the slide below:
)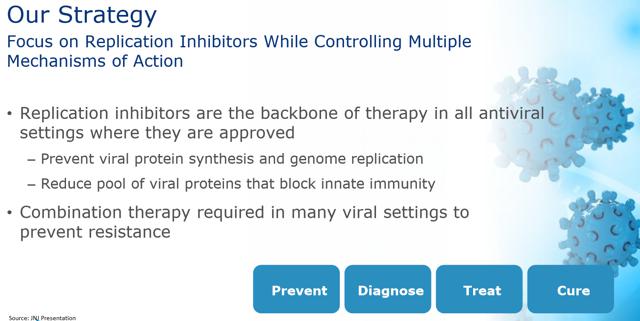 To be fair, their presentation did not specifically state that this strategy was targeted at the virus responsible for turning humans into zombies. However, I think we can agree that stopping zombies was the underlying message here.
Conclusion
These five stocks represent companies with strong dividends and a commitment to returning capital to shareholders. All five companies could reliably expect the demand for their products to increase dramatically relative to the overall economy if we enter into a zombie apocalypse. Caterpillar has certainly been a bit of a falling knife as global recessionary concerns have driven down sales and growth forecasts with a damaging impact on earnings per share. Their long-term performance could be seriously weakened by the poor demand, but it seems the market has already priced some fairly substantial declines in earnings into their share prices.
Some dividend growth investors may point to Ford (NYSE:F) offering a stronger dividend yield than Toyota. That yield is at 4.40% forward and 4.20% trailing. From the traditional perspective of acquiring strong dividends now, I think that argument makes a great deal of sense. However, in the event of a zombie apocalypse, investors are going to place a large premium on reliable cars. In my personal experience as a person with no mechanical background or qualification to make judgments about car quality, I must say that my newer Toyota vehicles are far more reliable than the Ford that was very old when I acquired it.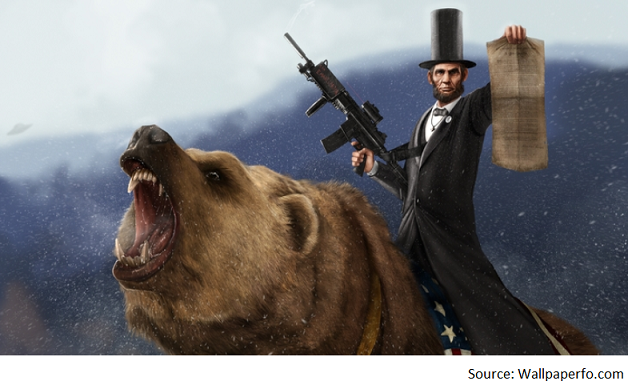 When it comes to Lockheed Martin, Altria, and Johnson & Johnson, I think all dividend growth investors can agree that these companies would be poised to shine in a prolonged war against the zombies. One produces weapons that would be critical to success, another produces a highly addictive substance whose worst side effect is death by cancer (which takes more than a few years), and the final one is one of the largest and most effective health care companies on earth.
Some investors may believe that they don't need to concern themselves with stocks for a zombie apocalypse. However, investors without a properly diversified dividend growth portfolio may not be able to afford their own automatic rifle and trained bear to ride alongside Abraham Lincoln when he goes to face the zombies in the coming war:
This silly article was in celebration of the zombie runs in Denver and Colorado Springs, in honor of several zombie-themed television shows returning, the start of October, and having 800 articles published on Seeking Alpha. The vast majority of my content is highly professional and focused on covering mREITs and ETFs. If you enjoyed the piece, please feel free to leave a comment and hit the follow button. There is nothing an author enjoys more than seeing new followers. Without comments and followers, I would be unlikely to get another article this absurd published. Therefore, let us start off the discussion by asking:
What stock would you want to hold for the zombie apocalypse and why? If this article gets enough positive feedback, your ideas may be featured on the next themed piece.
Additional disclosure: Information in this article represents the opinion of the analyst. All statements are represented as opinions, rather than facts, and should not be construed as advice to buy or sell a security. Ratings of "outperform" and "underperform" reflect the analyst's estimation of a divergence between the market value for a security and the price that would be appropriate given the potential for risks and returns relative to other securities. The analyst does not know your particular objectives for returns or constraints upon investing. All investors are encouraged to do their own research before making any investment decision. Information is regularly obtained from Yahoo Finance, Google Finance, and SEC Database. If Yahoo, Google, or the SEC database contained faulty or old information it could be incorporated into my analysis.