Supermarket chain Kroger (NYSE:KR) has been my favorite pick in the space for a long time now. In an industry dominated by very slow growth and terrible margins, KR shines. The stock went nearly straight up for all of 2014 but 2015 has been less kind to shares. In the months since my last report on Kroger shares have experienced an enormous amount of volatility as the flash crash took its toll. But a favorable earnings report has once again fueled some upside for shares so in this article, I'll update my views on KR based on what has happened in the past ~4 months.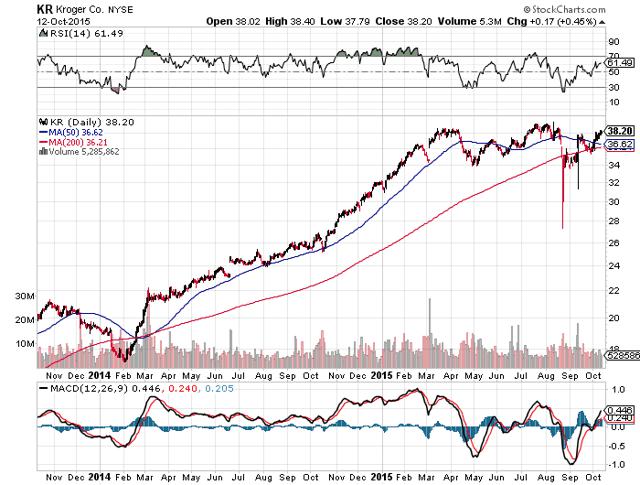 The Kroger bull case starts with comparable sales. This company has put together a streak that is scarcely rivaled in the entire market, let alone the cutthroat grocery business. KR has now completed 47 consecutive quarters of positive comps and that is what has allowed the stock to expand the way it has. The company sees 4% to 5% of comp growth for the fiscal year so the gains are set to continue. And considering KR opens very few new stores these days, almost the entirety of its revenue growth is due to comp sales, making it even more important.
But these comps aren't the only thing KR is doing right; it continues to expand margins as well. Groceries are perhaps the most difficult product to make margin on because grocers are literally selling commodities. Consumers can buy similar products at many different outlets so to compete, prices have to be low. But Kroger is a master at introducing new private label product lines to squeeze margin out of consumers. The latest example of this is the new HemisFares brand. Kroger is ultimately going to launch a full line of authentic international food products to get consumers to branch out to more exotic flavors and at the same time, add some margin to KR's bottom line. Private label products always carry higher margins than resales for grocers and if KR's launch works, we should see a moderate lift in margins over time.
But apart from the tangible benefits it is a continuation of what I consider to be a world class leadership team refusing to rest on its laurels. KR has been dominating in the grocery space for some time now but continues to innovate and find new streams of revenue like its analytical unit. Not only does KR exploit the data it mines for its own use but it sells that data to other interested parties as well. This is very high margin revenue so KR doesn't even need to produce very much for it to be meaningful to the bottom line. And the beauty of it is that KR was going to produce the data for its own use anyway; it is just getting someone else to pay for it.
Finally, fuel prices have moved down substantially in recent weeks and for a company that sells as much fuel as KR, that is terrific news. Not only does it mean consumers on the margin are spending less on fuel (and potentially more in the store) but it also means margins on fuel are moving up. Margins on gasoline move inverse to the price so the fact that gas is now available for $2 in many parts of the country is great news for KR. Should oil and gas prices stay depressed, we should see a further improvement in margins for KR going forward.
At 17.5 times forward earnings KR isn't a screaming buy. But market leaders like KR rarely reach that kind of status because selloffs are generally hard to come by. KR continues to roll along and produce enormous comp sales increases and is finding ways to extract margin from its revenue base. This isn't a stock that is going to double in short order; this is a steady, long term hold. I think 17 is probably the right multiple for KR in a skittish market and I don't think we'll see any meaningful multiple expansion unless the bull market resumes. But that still means we'll see ~10% growth in the stock price annually even if the multiple doesn't change as EPS continues to rise.
I will say the chart has gotten a lot messier since the last time I visited KR. The sideways action of 2015 has given way to chaotic selloffs and rallies that have left KR's chart in shambles. The good news is that the 50DMA appears to have avoided a collision with the 200DMA and that is a very positive signal for the uptrend. Both moving averages are still moving higher and that means KR will have to break down significantly in order to kill the uptrend.
But KR has failed to take out its highs around $39 yet so until that happens, the stock is range bound. We need to see KR make a move to and through the $39 that is serving as resistance to its current uptrend before any meaningful appreciation can take place. If the stock is rebuffed at $39 again we'll run into the moving averages problem once more and could see a trend change. That is a long way from happening but it is worth considering for the longer term.
Overall I still like KR very much. The company's strategy of continuous innovation is really working well and with fuel margins rising, we should see more positive comps and higher EPS at KR in 2016. The stock is likely fairly valued here but I still like it as we'll continue to see ~10% EPS growth each year. The chart could present a problem if the current rally stalls but we'll cross that bridge when/if we get there.