We Like Union Pacific… Should You?
The company is competitively entrenched in the railroad industry and generates an ample amount of free cash flow. 
The company is essentially operates as a government protected oligopoly – duopoly west of the Mississippi. 
Shares are not overly appealing at current levels, however, we are being offered a reasonable price for a great business. 
Union Pacific (NYSE:UNP) is a leader in freight rail transportation. It's no surprise that the drop in energy markets is having an impact on railroads. The decrease in international demand and U.S. steel production, along with the low prices of natural gas, have severely limited the coal shipments. 17% of Union Pacific's revenue is from coal shipments, so it can have a dramatic effect on the bottom line. Barring another severe winter, stockpiles at the Utilities will likely remain at elevated levels. In addition, regulatory restraints on the coal industry could have a major impact on coal movement.
We are seeing big drop off in the transport of frac sand, equipment, and oil because of drop in crude oil. We do not envision commodity prices staying at these levels forever. The earnings capability of Union Pacific is likely to remain where it is until the pricing in commodities recovers. We expect oil and gas to offset (and essentially replace) the reduction in coal shipments, which is likely to continue to decrease over time.
The only real positive from the latest quarter was the increase in auto hauls which increased 5%.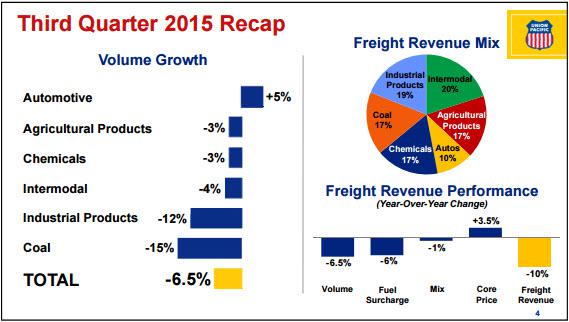 Leader in U.S. Rail Networks:
Union Pacific is one of the largest US railroads with 31,974 route miles that connect 23 states (owns 26,012 miles). Their route lines consist of the western 2/3 of the U.S. They offer corridors to important Mexican gateways. The company is essentially operates as a government protected oligopoly – duopoly west of the Mississippi. The six freight types gives Union a diversified revenue stream: Intermodal (20%), Industrial Products (19%), Agricultural Products (17%), Chemicals (17%), Coal (17%), and Autos (10%).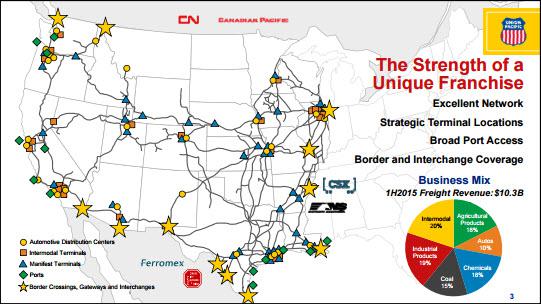 High Capital Intensive Business Provides a Moat:
The high barriers to entry make their systems almost impossible to replicate. Union Pacific's competitive advantages, similar to Burlington Northern's (BRK), should give them pricing power greater than inflation over time, which should allow them to take advantage of future growth in underperforming industries (energy, agriculture, construction, housing). This competive advantage should allow Union Pacfic to compound free cash for a very long time.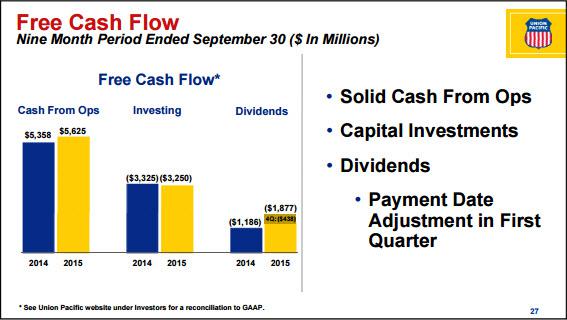 A key metric for railroads is the operating ratio. Operating ratio is a major measure of profitability for the company. It's the company's operating expenses as a percentage of revenue (inverse of operating margins). In the case of Union Pacific, they've been able to steadily decrease this number from 69.1% in 2011 to 60.3% in 2015. Management continues to focus on this number with hopes of getting it below 60.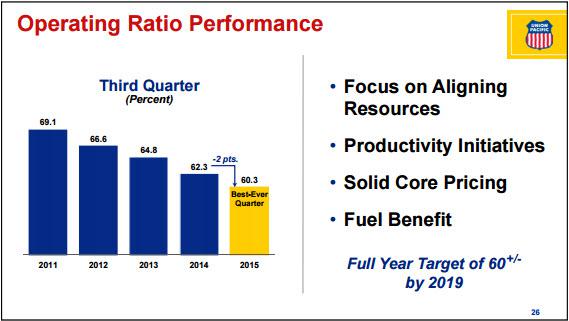 Railroad Economics have Improved Dramatically Over the Years:
The rail revolution started in around 2005 when rates started increasing from a relaxation of regulatory control. In addition, efficient locomotives and double stacking of cargo changed the dynamics of the industry the past 10-15 years. Revenues of railroad companies have increased in the mid-single digits, while operating margins have almost doubled from the mid-teens to over 30%. ROIC has increased from 4.51% in 2004 to 17.98 in 2014, while free cash per share has gone from $0.36 to $3.37.
Railroads provide significant advantage to the public, such as reduction in Greenhouse gases and highway congestion, increased safety per ton-mile, they take no tax-payer money, and they are incredibly fuel efficient. On a ton-mile basis, trains are three times cleaner than trucks. Figures show that one train can take 300 trucks off the road. Railroad help solidify how goods get moved around the U.S — it's a massive part of the U.S. economy.
Cost Advantage in Moving Low Value-Per-Ton Goods:
The long distances between major hubs gives railroads like Union Pacific efficiencies and advantages over other substitutes like trucking and airlines. Because of fuel-efficiency in Rails, Union Pacific is incredibly attractive versus the other alternatives. Domestic truckload conversions are more than 10 million.
The Drop in Energy Prices has Hurt the Company:
Estimates are likely to continue their downward trajectory with depressed energy prices. In addition, the strong dollar has hurt manufacturers and exports. We expect this continue in the short-to-intermediate term. However, we do need expect to continue forever. Regardless, Union Pacific is able to generate excess free cash in a very volatile environment for the industry.
Management is extremely competent and shareholder friendly:
Management is very focused in this environment and they've acknowledged the depressed state of numerous industries. They've cut back on hiring and put locomotives into storage to help line up operations.
Management has increased the dividend from $0.66 to 1.91 per share over the last 5 years. In addition, management has repurchased almost $10 billion worth of stock at very reasonable prices. Replacement capex and growth capex are split fairly evenly and we expect that to continue. We expect management to continue to be shareholder friendly and return a significant majority of free cash flow to shareholders in the form of repurchases and dividends.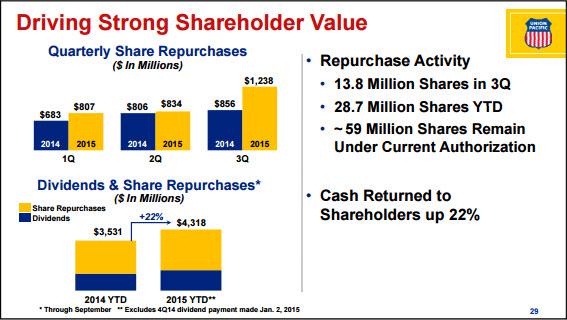 Unions are usually a worry, especially since 86% of Union Pacific's workforce is unionized. Having a great management team that takes care of its workforce is key in these types of situations. Union Pacific appears to be doing just that.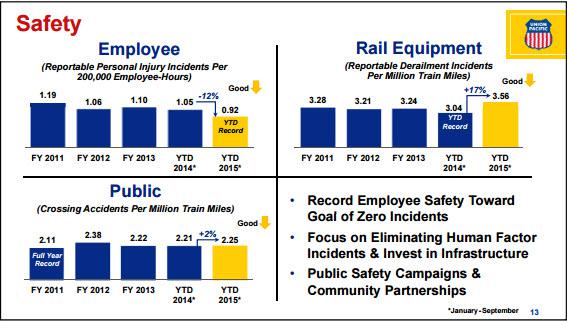 BOTTOM LINE
Despite the current environment, Union Pacific has done very well. ROIC and free cash improvements help prove how well they are executing right now. We expect Union Pacific to continue on its trajectory of generates excess free cash and returning that capital to shareholders. This company will likely not blow your sock off in the growth arena. However, we expect to see 8-12% growth (possibly lower) over time. We base this off the high barriers to entry and limited competition with increased efficiencies which we are seeing with improving operating margins.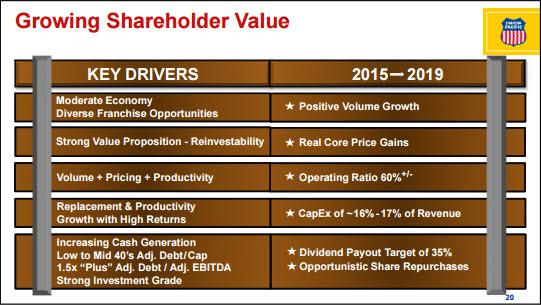 You are paying below a market multiple (15.65x) for a business that has true competitive advantages. Lower energy prices is helping to mask the true earnings power of the business. Because of the weakness and pessimism surrounding shares in Union Pacific, long-term investors are being given a company that is likely to compound investor money over time. Shares are not overly appealing right now with a FCF yield of 4.01% and a dividend yield of 2.37%. However, the company appear to be trading well below their future earnings power. We see a great company at a reasonable price at current levels. You don't get many opportunities to buy quality businesses like this at reasonable prices.