The continuous consolidation of the supermarket industry has put Kroger in a good growth position.
Good debt and cash management will allow continual growth.
Further M&A will increase the company's market share.
Overview
The Kroger Company (NYSE:KR) is currently the largest supermarket retailer in the US. The company has continually taken advantage of its free cash flow, putting it in a strategic position for excellent growth. Mergers and acquisitions over the past few years have allowed KR to continue to grow its market share and sales. We saw the result of this in its Q3 earnings and the outcome of the Harris Teeter acquisition. By investing in further projects with its cash, such as lease buyouts and direct manufacturing, KR will be able to keep its operating profits high. It has faced constant pressure from one of its top competitors, Wal-Mart (NYSE:WMT), but its high leverage ratio has allowed the company to compete by consistently adding companies to its brand through M&A.
Source: Stockcharts.com
Positive Q3 Results
KR's Q3 earnings release on Thursday provided optimism. Supermarket sales, without fuel, grew 5.4% in the third quarter of fiscal 2015. More importantly, KR reported return on invested capital [ROIC] on a four-quarter basis of 14.16%. With the acquisition of Harris Teeter, KR expects fiscal 2015 ROIC to increase from the fiscal 2014 result.
Looking at the bigger picture, YTD sales grew to $83.663B from $83.258B last year. Although a very marginal gain, when looking at EBIT between 2014 and 2015, profit has grown from $1.852B to $2.279B, indicating a 23% increase. Lastly, EPS was $0.43, which raises 2015 EPS outlook of $2.02 to $2.04.
Growth Drivers
1. Continued M&A
KR will continue to focus its cash flow to take advantage of M&A opportunities. It announced back in November that it plans on merging with Roundy, a Wisconsin based supermarket chain, putting yet another region on KR's map. Its recent mergers with Harris Teeter and Vistacost.com have increased the company's presence in the online business. The merger with Harris Teeter has provided excellent strategic advantages to KR's online operations. With its "click and collect" online ordering and customer pickup service, KR can increase customers, while also directly competing with pricey home delivery methods from other companies. This merger also resulted in an expansion to the Southeastern and Mid-Atlantic markets. It will be interesting to see which other companies are in KR's M&A pipeline and how they can continue to expand and innovate.

2. Use of Cash Flow
Management has done an excellent job of maximizing shareholder value with its cash flow. Back in July, KR initiated a 2-for-1 stock split, a $500 million buyback program, and a 13.5% dividend rise. With a positive track record and higher EPS estimates, KR could potentially raise dividends further in the future. More importantly, the company continues to invest in capital projects, M&A, and leases. The company prefers to own stores rather than lease them to lower its rent charge, and KR currently owns around 45% of its supermarkets.



Source: Kroger Reports
3. Manageable Debt Position
KR's goal has been to maintain a solid investment grade rating, which it has succeeded at. KR's objective for 2015 was to maintain a net total debt to adjusted EBITDA ratio between 2.0 and 2.2. At year-end 2013, this ratio was 2.43, mainly due to the Harris Teeter merger. It achieved its goal, and as of the close of third quarter 2015, maintains a debt to equity ratio at just 1.92. Although KR is highly leveraged, its investments have provided excellent market share growth and have allowed the company to stay highly competitive against other large retailers like WMT.
4. Profit Margin
KR manufactures 40% of its private-label products. By not relying solely on outsourced production, KR can capture all the profits from selling its higher-margin private label, allowing the company to remain competitive on price while preserving margin. This has helped KR to outperform its competitors in growth over last year. Another factor keeping its operating expenses lower is the fact that KR owns nearly half of its supermarkets, as stated before.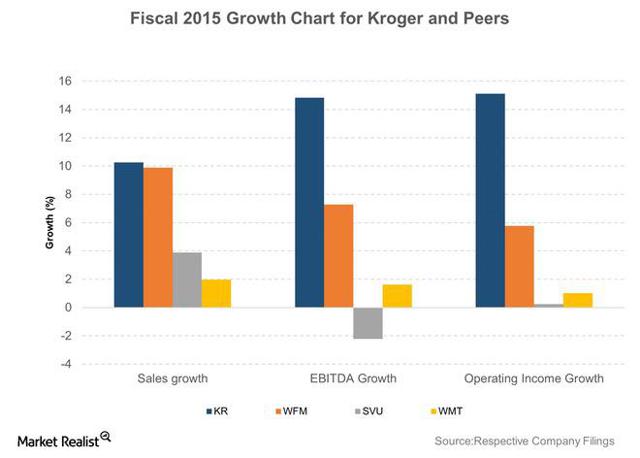 Competition
KR faces direct competition with WMT. Due to its size, WMT is one of the biggest threats to the company. WMT heavily relies on food-related revenue, as it accounts for 56% of the company's annual revenue. Although WMT operates more stores than KR throughout the US, KR has consistently beaten WMT on annual same-store sales growth. This shows that despite WMT occupying a larger market share, KR is able to continue to grow on an annual basis.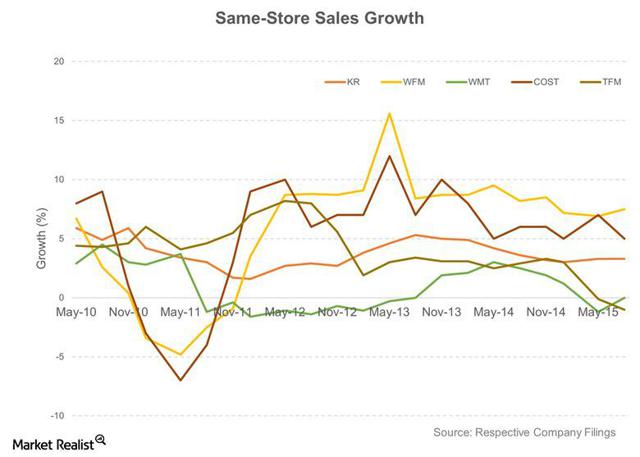 Source: Market Realist
Rising demand in organic production has increased competition with more chains offering organic and natural products. KR is facing pressure from specialty and niche grocers such as Sprouts Farmers Market Inc. (NASDAQ:SFM) and The Fresh Market Inc. (NASDAQ:TFM) to meet consumer demands. It is also facing competition from mass merchandisers like WMT, Target Corp.
(NYSE:TGT), and Costco Wholesale Corp. (NASDAQ:COST). To begin to penetrate the organic produce market, KR purchased a dairy farm to shift to producing organic milk. We may see many more acquisitions like this, which will allow KR to stay competitive in the organic market by keeping its margins high while meeting demands.
If KR continues to move into the online grocery segment, it may have trouble competing with niche companies. Amazon (NASDAQ:AMZN) is expanding its AmazonFresh segment which will directly compete within the online sales market. I believe that by leading the "click and collect" segment, KR can remain competitive against online competitors, as it will result in a lower operating cost that will be passed on to the consumer.
For more information: https://seekingalpha.com/article/3735766-kroger-big-fish-pond-eating-competitors
Disclaimer/ Disclosure: The Investors News Magazine is a third party publisher of news and research as well as creates original content as a news source. Original content created by Investors News Magazine is protected by copyright laws other than syndication rights. Our site does not make recommendations for purchases or sale of stocks or products. Nothing on our sites should be construed as an offer or solicitation to buy or sell products or securities. All investment involves risk and possible loss of investment. This site may be compensated by featured companies for news submissions and content marketing. Contact each company directly for press release questions. Disclosure is posted on each release if required but otherwise the news was not compensated for and is published for the sole interest of our readers.